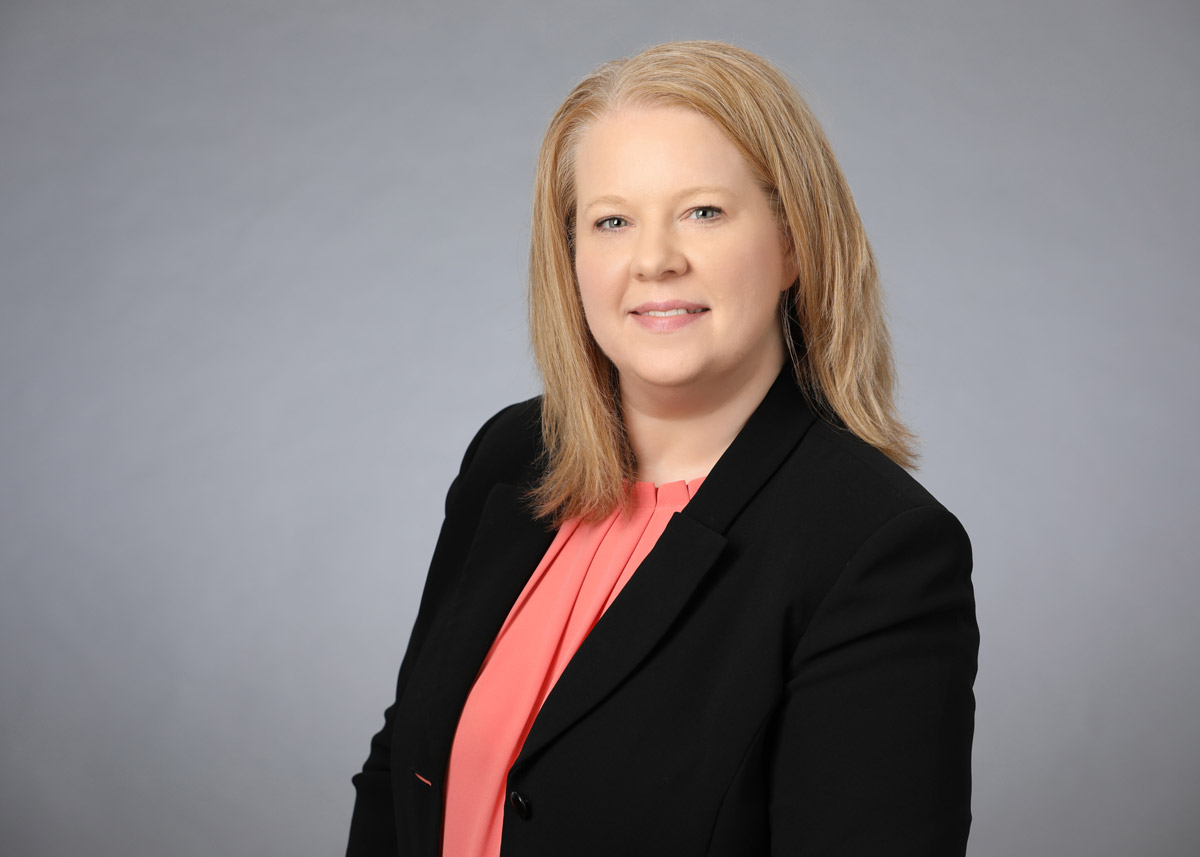 Tamara ("Tami") is an experienced attorney with an expansive civil litigation practice that involves representing individuals, businesses, and insurers in state, federal, and appellate courts throughout Minnesota, Wisconsin, and her home state of North Dakota. Tami has a diverse civil litigation practice that includes insurance coverage, employment, premises liability, care facility and nursing home litigation, product liability, and professional liability, including representing professionals before various licensing boards.
Tami has an attention to detail and curiosity to learn about and understand her clients, their business operations, and concerns, which she uses to develop a litigation strategy to best meet her clients' needs. Tami remains actively involved in matters from the moment of retention and throughout all aspects of a case, from providing pre-suit analysis, opinions, and resolution to litigating and arguing on appeal.
Tami has been recognized as a Senior Fellow by the Litigation Counsel of America. She was also recognized as a Minnesota Rising Star from 2004 to 2014 and a Minnesota Super Lawyer in 2020 to present.
Bar Admissions
Minnesota, 1999
North Dakota, 2000
Wisconsin, 2005
U.S. District Court, District of Minnesota, 2003
U.S. District Court, District of North Dakota, 2008
U.S. Court of Appeals, Eighth Circuit, 2006
U.S. Supreme Court, 2014
U.S. District Court, Western District of Wisconsin, 2022
Publications
Co-Author, Commercial Trucking Insurance for the Minnesota Motor Vehicle Accident Deskbook and Minnesota Insurance Law Deskbook
Contributor, Minor Compromises(North Dakota), ABA Commercial Transportation Litigation Committee (2010)
Contributor, Comparative/Contributory Negligence and Joint & Several Liability (North Dakota), ABA Commercial Transportation Litigation Committee (2009)
Author, Berkan v. Penske Truck Leasing Canada, Inc., Case Note, Committee News, ABA Commercial Transportation Litigation Committee (2008)
Contributor, Spoliation of Evidence(North Dakota), ABA Commercial             Transportation Litigation Committee (2008)
Co-author, Advice for Goldilocks When Hiring Good Help: Don't Ask Too Much; Don't Ask Too Little, Minnesota Defense (Spring 2007)
Author, When Does a Conflict of Interest Entitle an Insured to Independent Counsel?(2005)
Author, Negligent Infliction of Emotional Distress: When Can a Bystander Recover? (2004)
Author, Unfair Settlement Practices Acts: The Prohibited and Required Conduct, Enforcement Penalties (2003)
Presentations
Speaker, One Bad Apple, Care Providers of Minnesota Convention (2011)
Speaker, Nursing Home Arbitration Agreements, Care Providers of Minnesota Convention (2010)
Speaker, Caught in the Middle: Emerging Challenges for Nursing Homes, Care Providers of Minnesota Convention (2009)
Speaker, Commercial Trucking Insurance, Insurance Law Deskbook, Minnesota CLE (2007, 2009, 2011)
Attendee, Nursing Home/ALF/Litigation Seminar, DRI (2014)
Attendee, Skills Course, Trucking Industry Defense Association (2007 & 2008)
Education
J.D., University of North Dakota School of Law, 1999
B.A., University of North Dakota, Political Science, summa cum laude, 1996
Recognition
Listed in Minnesota Rising Stars, 2004-2014
Listed in Minnesota Super Lawyers, 2020 to present
Associations & Memberships
Minnesota State Bar Association
State Bar Association of North Dakota
Wisconsin State Bar Association
Minnesota Defense Lawyers Association
North Dakota Defense Lawyers Association
Defense Research Institute
ABA/TIPS Commercial Transportation Litigation Committee
Care Providers of Minnesota
Litigation Counsel of America Senior Fellow
Representative Cases
& Experience
Loe v. Landis (MN) – Obtained and successfully defended on appeal summary judgment for motor carrier alleged to be vicarious liable for its employee's assault of another commercial truck driver as plaintiff's vocational consultant was not qualified to opine as to foreseeability of assaults in the trucking industry.
Brown v. Gold Star Taxi (MN) – Obtained and successfully defended on appeal ruling that negative online review posted about an attorney who had issued a conciliation court order against a taxi company was pure opinion, so defamation claim failed.
Great West Cas. Co. v. Decker (8th Cir./MN) – Obtained and successfully defended multiple-count claim, including determination that insurer was not required to provide liability coverage to person loading hay bales onto trailer as a "moving property exclusion" was found valid under Minnesota law.
Great West Cas. Co. v. XTO Energy, Inc. (ND) – Obtained summary judgment for insurer in case arising when persons were injured in a flash fire at an oil well site as insurer's "hydrofracking" exclusion applied.
Great West Cas. Co. v. National Cas. Co. (8th Cir./ND) – Brought successful declaratory judgment action in case involving trucking vs. non-trucking insurance obligations for injuries to motor carrier's employee while performing maintenance on tanker used in oil fields.
Star Ins. Co. v. Continental Resources, Inc., et. al (ND) – Successfully defended and obtained significant reimbursement for insurer in declaratory judgment action seeking determinations as to coverage and indemnity obligations for persons injured in an oil rig explosion.
Casey v. Smith (U.S./WI) – Successfully obtained decision finding commercial truck driver was not acting "in the business of" a motor carrier as he drove to get unnecessary repairs to semi-tractor such that the non-trucking (bobtail) insurer must afford coverage for an accident.
Perry v. Zurich North American, Inc. (MN) – Obtained and successfully defended trial court decision that California UIM policy endorsement and California law, not Minnesota, applied and precluded recovery of UIM benefits for wrongful death resulting from a single-vehicle accident.
Great West Cas. Co. v. Carolina Cas. Co. (MN) – Obtained favorable decision finding an implied lease and, in turn, that an owner-operator was acting "in the business of" a motor carrier when he stopped for tools and gas on the way to complete paperwork and get the carrier's placards affixed to his semi-truck per the carrier's orders so he could continue working on the carrier's job so trucking insurer was responsible for wrongful death claim.
Auto-Owners Ins. Co. v. Great West Casualty (MN) – Obtained favorable decision that insurer of stalled vehicle was responsible for payment of no-fault benefits to person injured as he jumped from the path of the stalled vehicle he was pulling off a transport trailer; injury arose from "maintenance or use" of the vehicle, not the trailer.
Precision Diversified Indus. v. Colgate (MN) – Obtained summary judgment for trustee's attorney in legal malpractice claim brought by beneficiaries of their father's trust.
Obtained defense ruling for flooring subcontractor in binding arbitration claim seeking several million dollars in damages for defective construction of office building.
Successfully defeated motions seeking to assert claims for punitive damages in commercial trucking, motor vehicle/intoxication, employment, and nursing home cases.
Represented and negotiated favorable settlement for foreign manufacturer in product defect case which involved a plaintiff who suffered a crush injury to his foot and underwent more than a dozen surgical procedures.
Represented technology company in case arising from fire in sporting venue due to malfunction in sound system which resulted in several million dollars in damages.
Represented and defended businesses and employers in claims alleging whistleblower violations, discrimination, and harassment in matters before the Minnesota Department of Human Rights, North Dakota Department of Labor and Human Rights, the EEOC, and state and federal courts, including claims alleging ADA violations.
Represented doctors, nurses and administrators in matters before the MN Board of Medical Practice, MN Board of Nursing, MN Board of Psychology and MN Board of Examiners for Board on Nursing Home Administrators.